Wrangler Elisa, who hails from just outside Saskatoon, has brought her own menagerie of exotic critters to delight fairgoers.
Moose Jaw's own Chris The Magician adds local flavour to the Moose Jaw Hometown Fair but he isn't the only Saskatchewan talent performing at the four day event.
The Hometown Fair has their own Saskatchewan reptile wrangler who has brought an assortment of reptiles, amphibians and a few dinosaurs in tow.
Wrangler Elisa, who hails from just outside Saskatoon, has brought her own menagerie of exotic critters to delight fairgoers.
"Going to fairs allows us to reach all those people and spread the message about preserving our wildlife,": Wrangler Elisa said about her show.
The show is both educational as well as entertaining. 
It includes a video presentation talking about dinosaurs. 
Then Wrangler Elisa and her helpers bring out living animals that include a massive bullfrog, snake, tarantula, a tortoise talks about them and then gives the audience a close up look at them.
"We put on a great show that is educational as well as exciting," she said about the show she brought to the Moose Jaw Hometown Fair. 
At the show MJ Independent attended many of the children – and adults – were thrilled to see the reptiles and dinosaurs up close.
One mother said she was personally squeamish about snakes while her young daughter was up close and touching it after the formal show.
The show is more geared for younger children ranging one to 10 years old but Wrangler Elisa said she will answer more serious adult questions about reptiles after the children have gone.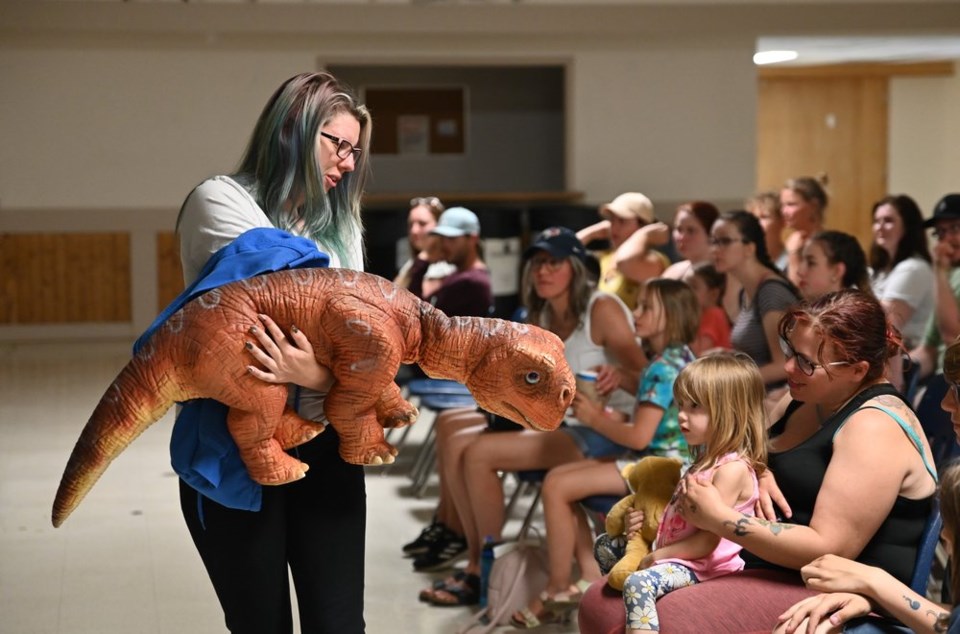 Wrangler Elisa said her attraction to exotic animals started when she was 15 years old. It has turned into more than an interest as she now appears at three to four fairs annually – with the number increasing – as well as everything else from birthday parties, schools, Christmas parties right up to engagement parties.
"If you have a passion for reptiles you must include them in many things," she said. As an FYI her engagement photos included reptiles in the pictures.
She sees it as a good thing. Reptiles and spiders were once reviled by many but now people are starting to accept they are part of nature, she said.
"Wrangler Elisa said "hands on" understanding to help dispel the myths in a fun way of discovering has helped to improve society's acceptance and understanding of all creature's place in nature.
During her show children – especially younger children – are mesmerized by both the live creatures but also by the dinosaurs who come from Earth's ancient past to the present to appear in the show.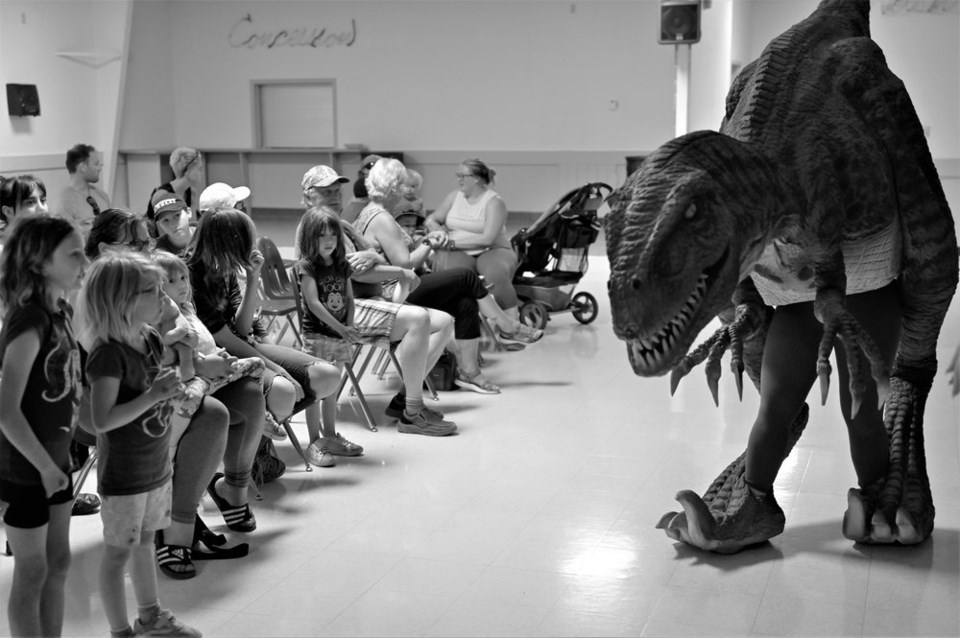 "One to ten year olds really enjoy dinosaurs and reptiles," she said, adding "they learn by touching and absorb that information better and quickly by hands on."
Wrangler Elisa draws on her love and knowledge of reptiles and other creatures – something she started when she was 15 years old – to entertain and educate.
It is the same formula as used by former long-time Safari Jeff who annually made the journey to be at the Hometown Fair.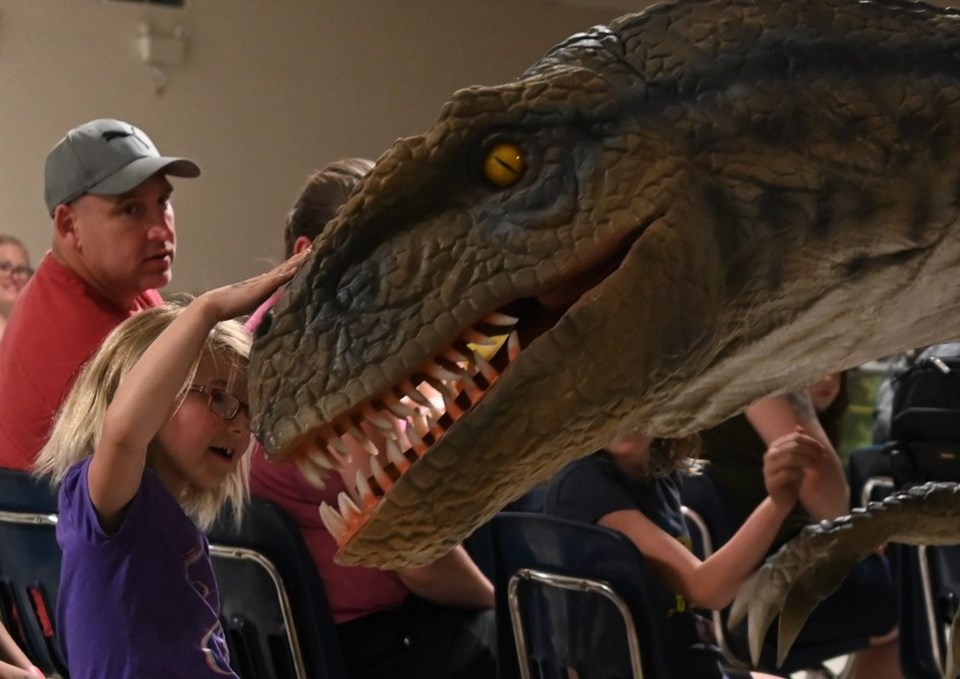 In fact Safari Jeff and Wrangler Elisa are in fact good friends who believe the same things about nature and use appearances at fairs and other events to educate and entertain.
So how good is Wrangler Elisa when it comes to her exotic animals? She was once accepted to attend Steve Irwin's school in Australia but because she became pregnant and was unable to attend.
"It's good as likely I would not have returned."
She gives credit to the late Steve Irwin – the Crocodile Hunter – and Austin Stevens for the growth in acceptance of reptiles and other misunderstood creatures.
Irwin was well known for using showmanship and entertainment to help create societal change when it came to wildlife – especially reptiles – when it came to societal acceptance and understanding.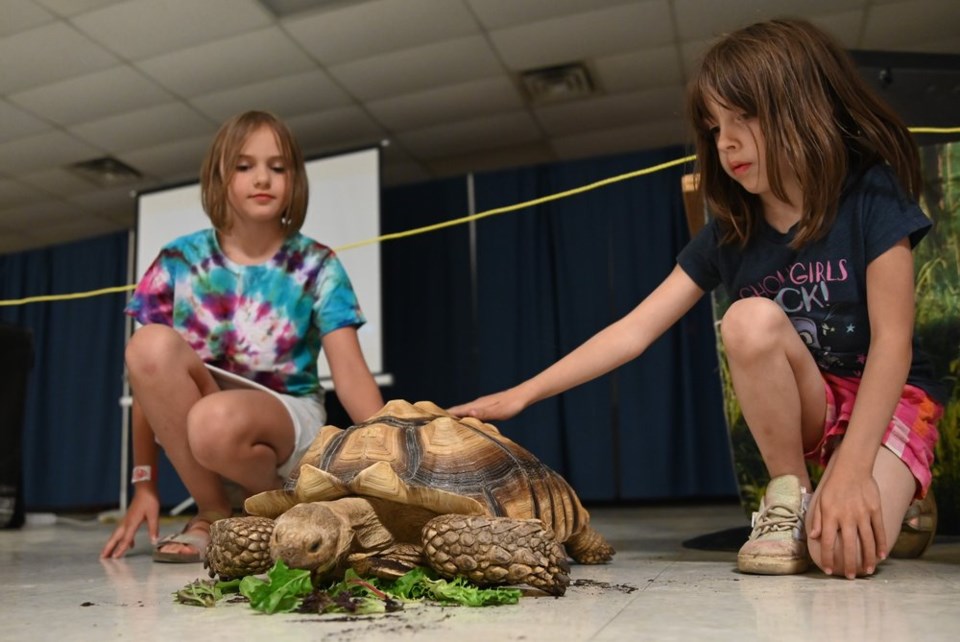 If you want to see reptiles up close and personal, learn about them, ask questions and even touch them this is a show you should not miss.
Wrangler Elisa may not say Crickey as part of her show but the kids in the audience just might.
Admission to the show is FREE with your gate admission.
Additionally for two hours a day dinosaurs are out and roaming the Moose Jaw Hometown Fair grounds.
The Blast From The Past show is just one of the free entertainment options FREE with gate admission. See the schedule below for performance times.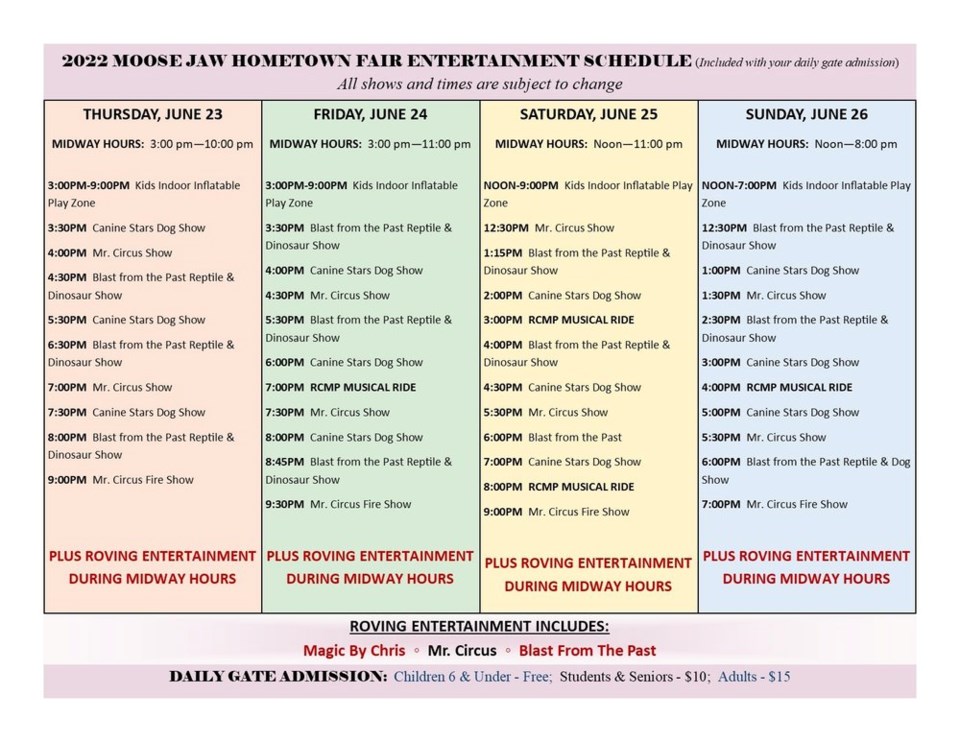 www.mjindependent.com